Teaching Youth Responsibility, Obedience and Service!
AGES 4-11
WEDNESDAY @ 7:00 P.M.
Challenging Messages
Hands on Messages
Games & Prizes
Arts & Crafts
One on One Interaction
Teaching life Skills
Come be a part of the fun on Wednesday nights as T.Y.R.O.S leaders teach today's youth the importance of personal responsibility, obedience and service.
***************************
Meet our Leaders!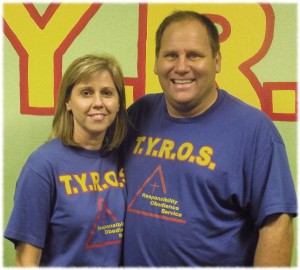 Originally from New England, Bro. Steve has been working with young people of all ages, both nationally and internationally, for the past twenty years. He and his wife, Teresa have ministered to youth on every level and specialize in children ages 4-11. Through practical teaching and hands on activities they present the Gospel message in a way that kids can understand and apply its truth to their life.